FlowMagic - High Performance Network Data Recorder and Analytics Platform
InfiniCORE™ FlowMagic product family is purposefully designed to solve the data recording and analytics problems network operators face in today's high speed networks. FlowMagic product family has 4 product members providing a wide range of selections for sustained capture speed and storage capacities. It is an easy to use, easy to deploy solution for capture and analytics application in 5Gbps, 10Gbps, 40Gbps, 100Gbps and 200Gbps networks with storage requirements from 4 Terabyte to 1 Petabyte.
Empowered by InfiniCORE's Software Defined Elastic Visibility Architecture, FlowMagic product family achieves a whole new level in terms of performance, scalability and flexibility. Together with tightly integrated software and a complete WEB based user interface, FlowMagic helps operators to reduce incident response time, conduct thorough behavioral analysis, better security compliance and post incident drill down.
[More information about FlowMagic Data Recorder and Analytics Platform…]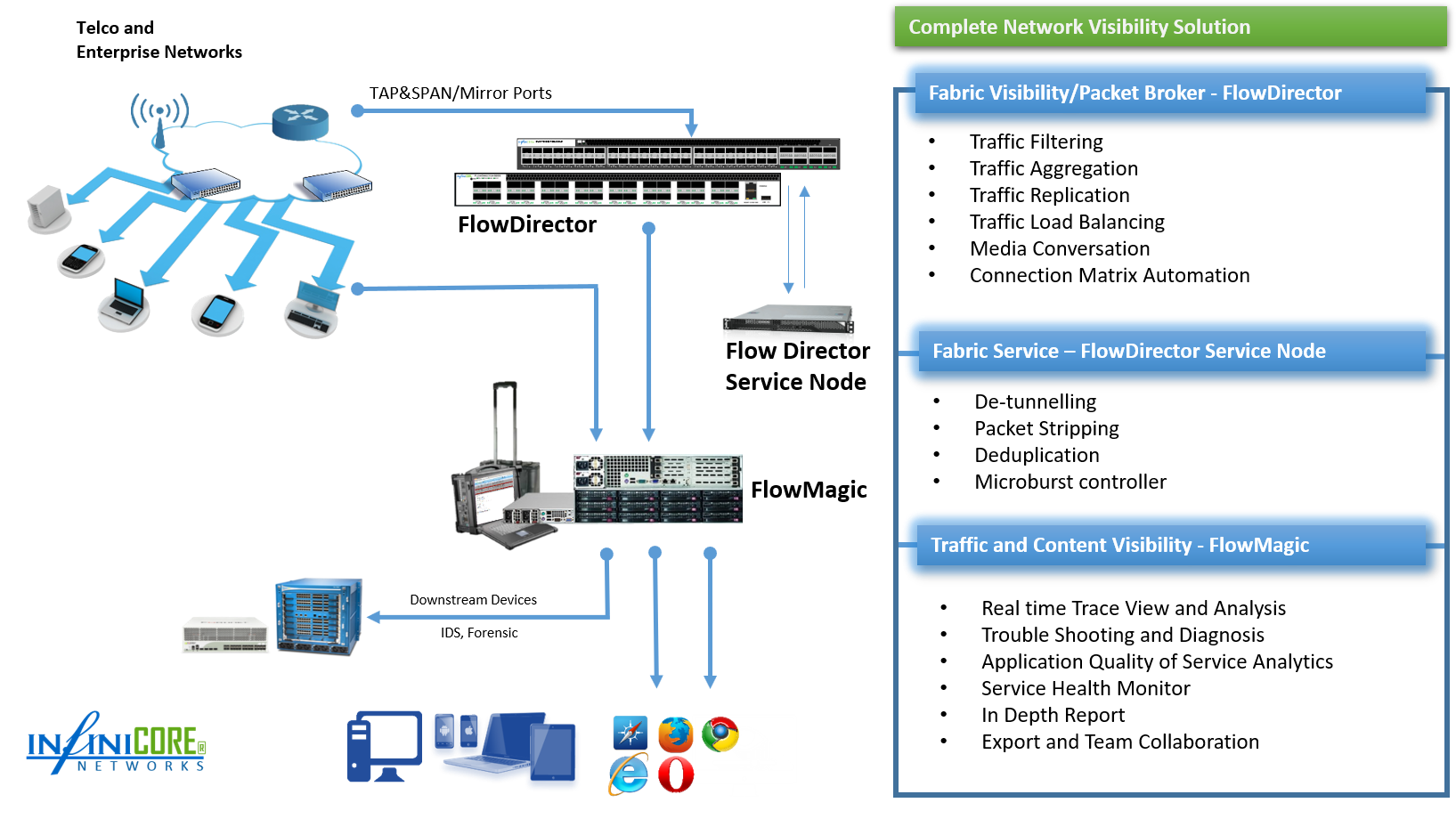 Flow Director - Network Fabric Visibility Appliances
Infinicore™ Flow Director series represents a new class of toolset designed to help network administrators and engineers to operate, monitor and debug high speed networks and applications efficiently. Advances in network mapping can enable network management systems to capitalize on topology intelligence from networks and system devices, saving you effort, time and resources.
Infinicore™ Flow Director allows network administrators and engineers to map, tap, tag, replicate and load balance the traffic across any input and output ports. It enables network administrators to cost effectively improve their network to provide advanced monitoring, security and forensic functionality without the risks of service disruption.
Infinicore™ Flow Director can be used to connect multiple InfiniLoad™ Traffic Generators to simulate traffic at cloud scale. It is an essential tool to improve sharing of expensive testing equipment across teams and projects.
[More information about FlowDirector …]
Available Product Models
FlowDirector Service Node - Software Defined NPB Service Appliances
FlowDirector Service Node (FSN) is designed as a fully functional FlowDirector with advanced add-on features. Built on the foundation of FlowDirector with all the packet broker functions, FSN provides a wide range of advanced network visibility functions such as Packet Deduplication, NetFlow Record Generation, Microburst Controller, Deep Tunnel Processor, and others.
FSN product family has 3 product members providing a wide combination of choices for copper and fiber interfaces running at the speed of 10/100/1000Mbps, 10Gbps, 25Gbps, and 40/100Gbps.